WORLD MEDICINE IS ALSO DEVELOPING, REGISTERING, AND MARKETING NEW PRODUCTS IN TURKEY.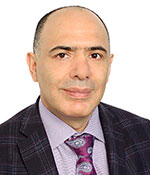 Since we last met with World Medicine, in 2014, the company has continued to aggressively expand its footprint in Turkish and foreign markets. Could you provide us with an overview of the key projects that World Medicine has undertaken over the course of the past year?
Rovshan Tagiyev (RT): For the past year, we have put significant effort into expanding our business in the Turkish pharmaceutical market and in global pharmaceutical markets. We have been continuously working towards the development, registration and market launch of new medicines in Turkey. In order to expand our business into foreign markets during this period, we have formed strategic alliances with Pharma Ival Company in Algeria and Polymedic Company in Morocco to build new factories in these countries. Also, we have concluded many distributorship agreements to make our products available to markets in Asia, Africa and the Middle East. We have intensified our efforts in registering our products in European Union (EU), which resulted in the successful registration of nine of World Medicine's products in Greece. We expect to get marketing authorizations for six to eight medicines in Great Britain by the end of this year. In addition, our medicines are under registration today in Portugal, Bulgaria, Romania, and Poland. These developments will yield the desired outcomes for our business expansion.
What external factors have affected your activity in foreign markets?
RT: Currency devaluation in the foreign markets has again impacted World Medicine, as the company is active in several markets that have exhibited macroeconomic volatility over the past year. We are active in Commonwealth of Independent States (CIS) countries, where sharp movements in the currency exchange rates have occurred. On top of that, the company has felt the impact of the war in Ukraine.
Economic turbulence has cut the purchasing power of our target markets. In addition, owing to individual market regulation, we are unable to change the price at which we supply them. As a result, we have operated at a loss on occasion. Be this as it may, the diversification of foreign markets has provided us with the opportunity to grapple with the twists and turns of the global economy more easily than many others.
While the complicated situation in the markets of Russia and Ukraine has resulted in decreased sales volume of World Medicine in these countries, our activity within other markets has increased.
Which foreign markets are most appealing to World Medicine?
RT: In 2015, World Medicine seeks to focus more heavily on our activity in the EU. We aim to see our products in pharmaceutical markets in Romania, Bulgaria, and even Spain. To this end, we began the market authorization process for the European Union last year. Operating within the European market requires GMP certification. Although the Turkish and European GMP requirements coincide in many respects, we were required to undergo an additional certification process to enter the European market, and naturally, we have undertaken this. Today, the manufacturing facilities of World Medicine have GMP-compliance certification for the EU, which is crucial for the execution of our strategy.
In the past year, we have seen the profitability of pharmaceutical manufacturing in Turkey decline rapidly, impacted by both the country's system of cross-reference pricing and currency volatility. What has this meant for World Medicine?
RT: In 2014, World Medicine launched 15 new products on the market. Of course, World Medicine has been impacted by these two macroeconomic events, the country's system of cross-reference pricing and currency volatility, but the larger impact that these two events have had on the industry is observed in the creation of unmet medical needs within the domestic market, a result of the Turkish pharmaceutical manufacturer's inability to profitably develop new products or continue existing product lines. World Medicine and many others within the Turkish market are fully aware that there is a need for certain types of pharmaceutical products to be developed and launched. The possibilities of the manufacturers to do so are quite limited, and the immediate consequence of this has been that World Medicine, like many others in the contemporary pharmaceutical environment, is now more heavily focused on the development of export markets.
World Medicine has a strong commitment to research and development (R&D), evidenced in the partnerships that it has forged with Turkish academic community. Can you please provide us with an overview of your R&D strategy in 2015?
RT: In 2015, World Medicine has been engaged in developing two new products through our R&D strategy and is in close collaboration with two Turkish universities.
Beyond this, World Medicine has also commissioned the development of a biotechnological laboratory, which we will complete in 2016. Again, the development of these facilities and relevant laboratory studies will be performed in collaboration with Turkish universities. To guide our R&D strategy, we have also contracted several reputable foreign scientists from Canada, South Korea and Argentine, countries where the governments have already promoted biotechnology as a priority of research and engineering policy.
We have now completed the first quarter of 2015. What strategic initiatives will World Medicine enact over the remainder of the year to ensure the further growth of the company?
RT: World Medicine is currently heavily focused on completing the market authorization process, the essential part of our product launching within emerging pharmaceutical markets in Southeast Asia, as well as to East African markets. In fact, we have already begun to export to these two regions; however, we now seek to expand our product offering in them. The markets of Southeast Asia and Africa show great promise for their underlying potential. In the future, they will become quite economically profitable.
What has the Turkish government's treatment of the regulatory framework governing the pharmaceutical sector meant for World Medicine's confidence as a manufacturer in Turkey?
RT: Turkey has prioritized the development of its pharmaceutical sector. We have felt this at every stage: in developing new products within the country, as well as while using the country as a base for extending our presence within the foreign markets. It is because of the confidence that we have in the Turkish government that this year World Medicine will develop two new factories for pharmaceutical manufacturing, for which we have just acquired land and begun the project development process.
These two factories will have different production lines: one will be dedicated to sterile and lyophilized products, and the other will be dedicated to additional manufacturing for anti-asthmatic products. We hope that the factory opening ceremonies will be performed by 2016.
Where might we see World Medicine in five years?
RT: Over the next five years, World Medicine will become more global than ever before. We are currently establishing a factory in Belarus. We will soon develop a factory project in Algeria. We seek to enter the EU, and many of the world's most quickly growing, emerging medical markets. We see great promise in these regions.